Google reviews are a valuable resource for businesses. They can help you attract new customers, and they can also help you keep your current customers happy.
It's important to respond to Google Reviews quickly and politely, no matter whether they are positive or negative.
In this blog post, we will discuss the best Google Review response examples for both positive and negative reviews.
We'll also give you some tips on how to handle these reviews effectively, how to leverage SEO strategies in your responses and how best to ask for a review.
1. Google Review responses – why it's important
There's no denying that Google is one of the most powerful forces on the internet. And when it comes to search engines, Google is king.
That's why it's so important to make sure your business is listed on Google and that your listing includes plenty of positive reviews.
Responding to Google reviews is a great way to show potential customers that you value customer feedback and that you're willing to address any concerns they may have. It also shows that you're an active and engaged business owner who is invested in providing a great customer experience.
Of course, not all reviews are going to be glowing five-star reviews. You're bound to get the occasional one-star review from an unhappy customer.
But don't let that discourage you! Even the best businesses receive negative reviews from time to time. What's important is how you respond to those negative reviews.
2. The different types of responses you can give
When responding to a Google review, the most important thing is to be sincere. Thank the customer for their feedback, and let them know that you appreciate their input.
Address them by their name and take the time to respond in an authentic manner.
If the review is positive, be sure to thank them for their kind words. If it's negative, apologize for any inconvenience they may have experienced and assure them that you're working to improve your business.
In either case, a personal touch will go a long way toward showing your customers that you care about their satisfaction.
There are three main types of responses you can give to a Google review: positive, negative, and neutral.
Positive responses are great for thanking the customer and building relationships.
Negative responses should be short and to the point, apologizing for any issues and assuring the customer that you're working to fix them.
Neutral responses are perfect for acknowledging the customer's feedback without taking sides. No matter what type of response you give, always remember to be sincere.
3. How to respond to a negative review
No one likes getting negative reviews. But sometimes, people leave reviews without really knowing the whole story.
And that's when you have to step in and set the record straight.
It's true that there are generally 3 sides to every story: your side, the reviewer's side, and the truth. And while you don't want to publish every detail about the case, it's vital that you acknowledge their concerns and assure them that you are committed to customer service and care.
To help you, we've compiled some examples of the best responses to negative reviews on Google:
"Hello [name] we're sorry to hear that you were disappointed with your experience at our business. We take all feedback seriously and will use it to improve our business."
"Hi [name] it sounds like you had a bad experience with our business. We're sorry about that and would love to offer you an opportunity chat to us about it so that we can turn your 1 star review into a 5 star review."
"Hi [name] we're sorry to hear that you didn't enjoy your experience with our business. We'll do our best to improve our business based on your concern. Thank you for taking the time to review us."
These are just a few examples, but the point is clear: responding to a negative review doesn't have to be difficult.
Just be polite, apologetic, and understanding, and you'll be well on your way to keeping your customers happy.
What about positive reviews? How should you respond to those?
4. How to respond to a positive review
When it comes to responding to positive reviews, there's no one-size-fits-all approach. Sometimes a simple thank you will suffice, while at other times you can go into some detail about your client and sincerely thank them for trusting you and your business to help them solve their problem.
Just like every business is different, every positive review will be unique. That said, there are some general principles you can follow to ensure that your response is always professional, polite, and helpful.
Here are some of the best Google review response examples for positive reviews:
"Hello [name], thank you so much for your kind words! We're so happy to have you as a customer and we'll do everything we can to continue providing you with excellent service."
"Hi [name], thank you for your positive feedback! We're constantly striving to improve our products and services, and we're glad to know that we're meeting your needs and expectations! Don't forget to tell your friends and family about us!"
"Hello [name] it's great to see that our efforts are being appreciated! We'll keep working hard to make sure that all of our customers have a positive experience like you did."
"Hi [name], thanks for taking the time to leave a review! We really appreciate your input and we'll use it to continue making improvements."
"Hello [name], thank you for your glowing review! We're proud to have such satisfied customers and we'll do everything we can to keep living up to your expectations."
These are just a few examples of how you can respond to a positive review on Google.
In general, it's always a good idea to thank the customer for their feedback and let them know that you're committed to providing the best possible experience. A little appreciation goes a long way!
5. What not to do when responding to reviews
You can't please everyone all of the time. That's just a fact of life. And when it comes to Google reviews, there will always be that one person who leaves a negative review, no matter how good your business is.
But it's important to remember that how you respond to that review is just as important as the review itself.
A poorly thought-out response can do more harm than good, so it's important to take some time to craft a response that will reflect well on your business.
To help you out, we've put together a list of some things not to do when responding to reviews.
1. Don't get defensive. It's important to remember that the person leaving the review is only expressing their own opinion, and there's no need to get defensive about it.
Take what they say on board and use it as constructive criticism to improve your business.
2. Don't attack the reviewer. This is probably the most important thing to remember when responding to reviews.
No matter how tempting it might be, never attack the person who left the review. This will only make you look bad and damage your reputation further.
3. Don't be generic. We've all seen the canned responses on Google Reviews – whether they are responding to a positive or a negative review. A generic response shows that you don't really care about the person who left the review.
Take the time to personalize your response and show that you're taking the time to address their specific concerns.
4. Don't ignore the reviewer. Whether you've just received a slew of positive reviews or some negative ones, simply ignoring them does as much damage to your reputation and Google ranking as hundreds of negative reviews do.
In fact, you're better off not having a Google listing at all if you don't see the immediate and long-term value reviews can bring to your business.
6. How to use SEO in your Google Review Responses
Did you know that there is an easy and totally free method that increases your Google ranking and helps to drive more traffic to your Google Business Profile (previously Google My Business listing)?
And that it has been sitting right under your nose all along…
In fact, you've already likely been using an element of this secret hack but not effectively.
The cool thing is you don't even need to be a Property Funnels client to take advantage of this tactic…though we do make it easier.
You see, good service has the potential to elicit positive reviews for you and your business. But how often do you ask for a review?
And how many times do ask your customer to review you where it really matters?
Where should your customers review you, you ask? On Google, of course.
So what's this secret to driving more organic traffic to your Google My Business listing (and to your business)?
***drum roll***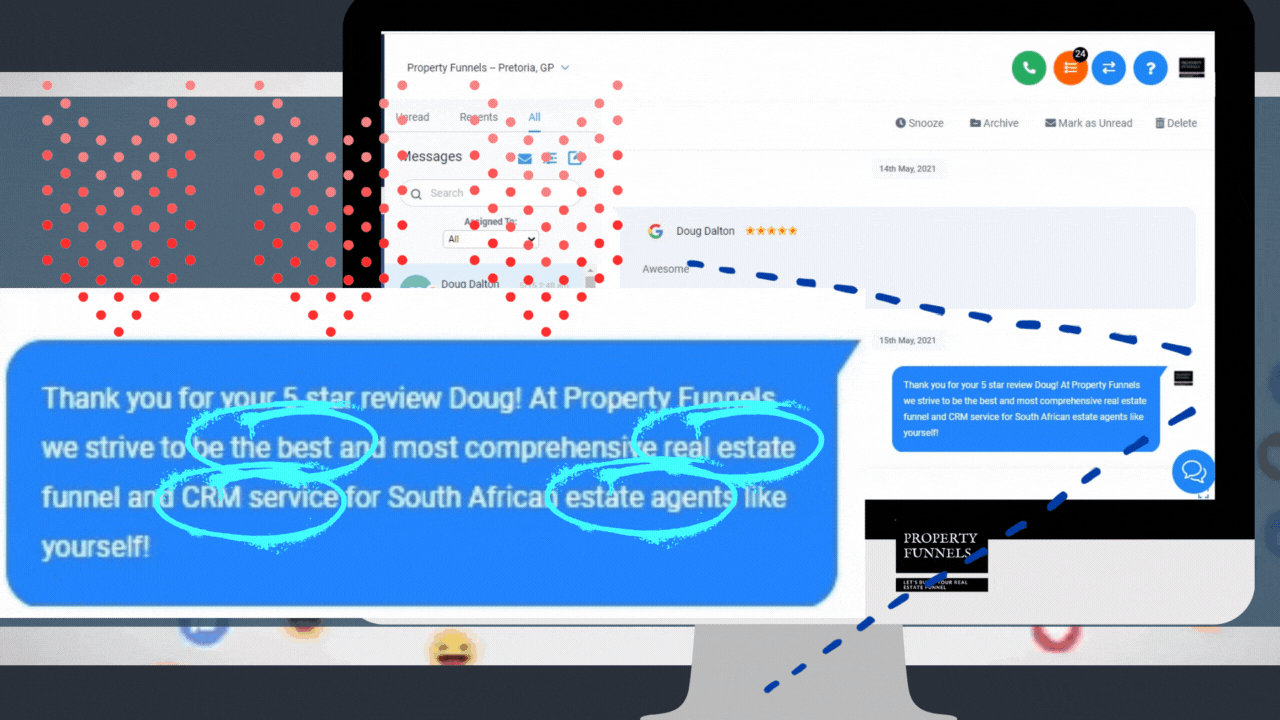 Replying to your reviews (whether they are positive or negative).
But it doesn't stop there…
You can still take it one step further: insert keywords that you want to rank for in your reply to your reviews!
An example of 5-a star review: "Thank you [name] for your 5-star review! At XYZ Properties we are on a mission to be the best real estate agents in [city/suburbs] helping sellers like you sell faster and for more money."
That's a total of 4 keywords and phrases that you can easily outrank your competition for!
You enhance your Google reputation when you get reviews from real people, respond to ALL your reviews personally AND insert keywords into your responses.
If you've ever written a Google Review, you know that the key to a good review is all about the details. But what if you could take your reviews to the next level by using SEO in your responses?
That's right, by incorporating a few simple SEO techniques into your Google Review responses, you can help your reviews stand out from the crowd and attract even more attention. Here are a few tips to get you started:
1. Use keyword-rich phrases in your responses. Think about the terms that potential customers would use to search for businesses like yours: the terms you want to be found for.
By using these terms in your responses, you can help ensure that your reviews show up in their search results.
Try it today! You'll be pleasantly surprised by the extra exposure your Google listing could get.
2. Make sure your response is relevant to the review. One of the biggest mistakes businesses make is responding to reviews with generic, boilerplate responses.
Not only does this look bad, but it also tells potential customers that you don't really care about their feedback.
In contrast, crafting a response that's specific to the review shows that you're paying attention and that you value your customer's input.
Again, include your business name and the search phrases you want to be found for in your responses.
7. How to effectively ask for Google Reviews
Asking your customers or clients for Google reviews can be a bit of a daunting task. After all, you don't want to come across as pushy or sales-y.
But the truth is that Google reviews can be hugely beneficial for your business. They can improve your visibility in search results, help you build trust with potential customers, and boost your overall online reputation.
So how do you go about asking for Google reviews?
Here are some tips:
1. Be polite and professional. This should go without saying, but it's worth repeating.
When you're asking for a review, be sure to use please and thank you. A little courtesy goes a long way.
2. Make it easy. Don't make your customers hunt around for your business on Google. Include a link to your Google listing in your request for a review. That way, they can just click and leave their feedback.
3. Be specific. To elaborate on the previous point, making it easy for your customers to review you is as much about showing them where to review you as it is to gently guide them in what you'd appreciate they include in their reviews.
For example, you could say something like, "I would really appreciate it if you could mention our great customer service in your review." This will help ensure that you get the positive review that you're looking for.
Do you have any Google Review response examples that have worked well for you? Let us know in the comments below!
And if you're looking for more ways to get Google Reviews, check out our blog post on the best ways to get five-star google reviews quickly and safely. 
Thanks for reading!